Christian Life High school
At Christian Life, we view a student's high school years as vital and critical to their overall development and transition into higher education. We do not take this responsibility lightly, but make it our personal mission to see that every Christian Life High School student is equipped and prepared to face life after high school in a physical, emotional, educational and spiritual sense.
Academic Resources
Post High School
Throughout the years, our graduates have continued their education at colleges and universities of distinction. Christian Life's approach to the development of the overall person gives each student a competitive edge when it comes to his or her post-high school education. With above average Stanford scores and competitive ACT scores, our students enroll with ease in major colleges and universities around the country. Learn more about Christian Life's college prep options.
Spiritual Development
As a ministry of City First, Christian Life Schools partners with our campus pastor, Sonny Savitski and numerous City First interns, to provide a weekly chapel experience for students each Friday. Each chapel session consists of a live worship band and message to encourage, guide and challenge students spiritually.
Once a year, Christian Life High School students attend spiritual emphasis week. During this week, a guest speaker is brought in to focus and challenge our students to strive for excellence in their walk with Christ. In a society where even the strongest and most secure child or teenager can experience the pressures of negative influences, Christian Life provides a place of security, constancy, and spiritual relevance.
High School students are also afforded the opportunity to attend a two-day, one-night retreat held once a year at the Lake Geneva Conference Center in Lake Geneva, WI. During the High School retreat, students participate in activities designed to cultivate leadership and team building qualities, and attend services with a live worship band and special speaker.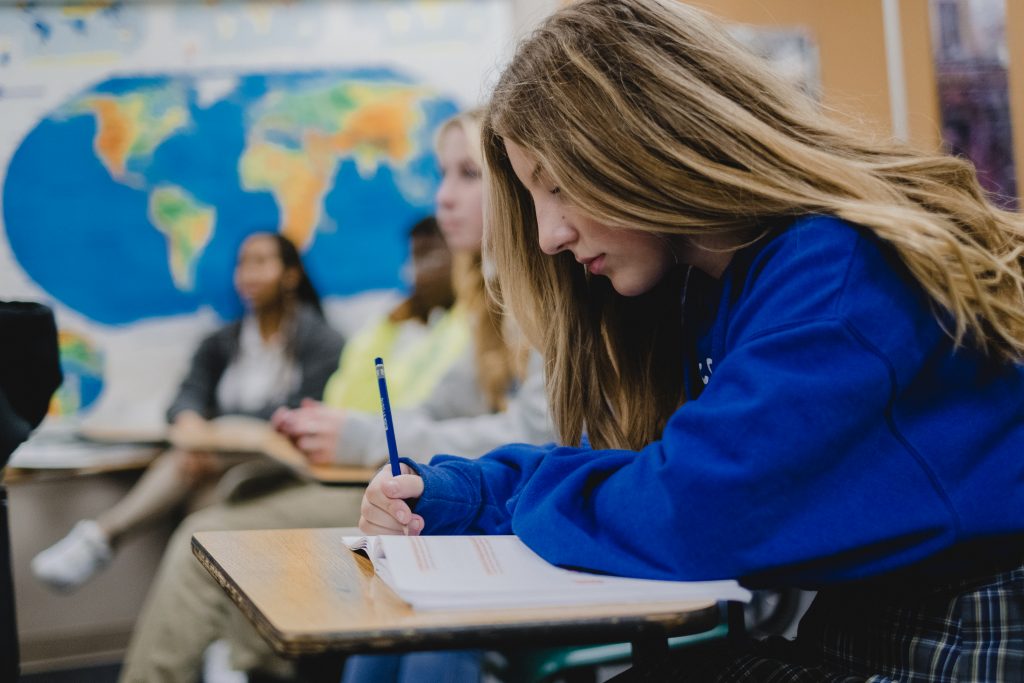 Dress Code Policy
Christian Life Schools has a uniform dress code for all students (PreK-12th). The goals of the uniform are as follows:
Promote unity among students
Provide a standard of dress that is modest, easy to maintain, and accessible to all
Promote neat, comfortable attire in a cost-efficient manner
Students are to remain in these clothes throughout the school day (8:00 a.m. – 3:00 p.m.), from entering the school building until departing the school grounds. (Includes free hours, study hall, hallways, etc.)
Jumper
Grades Pre-K through 5th only. Solid navy or tan khaki (no shorter than 3" from floor when kneeling).
Skirt/Skorts
Grades Pre-K through 12th may wear a Box Pleat or A-line uniform style skirt in CLS Plaid*, navy and tan khaki (no shorter than 3" from floor when kneeling). *
Shorts
Grades Pre-K through 5th only. Uniform style, Bermuda (long length) shorts in either tan khaki or navy blue colors. May wear up to October 15th and after April 14th. (Seasonal dress)
Capris
Docker/uniform style, loose-fitting capris. No denim, no jean style, no khaki jeans, no jeggings, no form-fitting capris, no low-rise hip huggers. Length must be past the knee. May wear up to October 15th and after April 14th. (Seasonal dress for Pre-K through 5th)
Socks
Leggings: Can only be worn under uniform skirt. No netting or lace.
Shorts
Docker/uniform or cargo style shorts. No denim, no jean style, no khaki jeans, no low-rise hip huggers. Shorts length must reach knees. (Seasonal dress for Pre-K through 5th)
Shirts
Loose-fitting, uniform style polo with 2-3 buttons (long/short sleeves), Oxford dress shirt. Polo shirts may be left untucked. Oxford shirts MUST be tucked in and buttoned. Wearing layered shirts is permissible.
Sweatshirts/jackets may not be worn under polo shirts.
Undergarments
Undergarments should not be visible.
Pants
Docker/uniform or cargo-style pant. No denim, no jean style, no khaki jeans, no low-rise hip huggers, no leggings/jeggings.
Colors
Polo and sweater colors are white, navy, light blue, red, hunter green, yellow, and gray. No gold. Without a tie, oxford color is white only. All grades may wear ties with a solid color button down Oxford only.
Pants, shorts, skirts, capris, skorts and jumpers are to be khaki or navy. No green khaki. Sweaters
V-neck, crewneck pullover, or cardigan sweater in a solid polo color (no designs or patterns). A shirt, as described above (polo or oxford-style button down) must be worn under any style of sweater.
CLS Sweatshirts/Zip Ups
May be worn Monday – Friday. Purchased through the school offices or online. CLS crewneck, CLS hoodie, or CLS full-zip fleece: Students are required to wear a uniform shirt underneath, if sweatshirt is to be removed.
Shoes
All grades need to wear non-marking shoes to protect the gym floor. During P.E., all students are expected to wear non-marking athletic shoes.
Grades Pre-K through 5th – Shoes need to have a full heel or strap around the back of foot and covered toe. Students must wear socks. No hiking boots, flip-flops, slippers or rollerskate shoes. Shoes must remain on feet at all times.
Grades 6th through 12th – Tennis shoes, sandals, casual or dress shoes may be worn with or without socks, nylons, or tights. No slippers or rollerskate shoes. Shoes must remain on feet at all times.
Hair
Christian Life students are to be conservative with hair style and avoid drawing attention to themselves (punk, mohawk, spiked, tails, etc.). Hair should be clean, neatly trimmed, and predominantly one of the four natural colors (brown, black, blonde, red).
The CLS Administration will make a final determination on any questionable haircuts and determine whether the haircut is ac­ceptable or not. Boys' hair should be shoulder-length or shorter.
Miscellaneous (These restrictions apply to school hours and any school-related activities.)
Earrings are permissible for girls only; only small studs are permissible in nose piercings.
Visible Tattoos or other body piercings are not allowed.
Neck chains, pendants, rings, and wrist bracelets may be worn as long as they do not distract from the learning environment, and do not contradict Christian standards/values.
Head coverings (hats/caps, sweatbands, bandanas, etc.) and sunglasses may not be worn in the building during school hours.
Fridays – School Spirit Wear!
Every Friday is "School Spirit Wear Day." This is not a casual dress day! Students must wear either school spirit attire and jeans/khakis or remain in accordance with the weekly standard uniform policy. (NO tears, holes or frays.)
School Spirit Wear defined:
CLS spirit wear shirts are purchased through the office, CLS team shirts as approved through the Athletic Director, and school shirts representing school-sanctioned programs (i.e. music, band, class trips, missions, etc.). Shirts MUST have the name of the school or logo to be worn on Fridays.
Casual Dress
On special occasions, students are allowed to forego the school uniform for casual dress. On these days, modesty is the overwhelming priority. Clothing must not be revealing. Students may not wear yoga pants, leggings, or clothing with writing across the backside. Normal dress code guidelines remain in effect in matters of hair, shoes, jewelry, head covering, clothing without tears, holes or frays, etc.
Dress for Athletic Practices & Special Activities
During practices for athletics, standard P.E. uniform or the practice uniform for that specific sport is required. Students are to be in the gym or practice rooms dressed in acceptable practice attire.
Males must wear a shirt during practice sessions both in the building and outside. Shorts with writing across the backside are not permitted.
Females must wear t-shirts. Tank tops, pants/shorts with writing across the backside are not permitted.
For special activities, the dress code may be altered by the administration. Regardless of the activity, Christian modesty is required.
During homecoming spirit week, powder-puff activities, and class-sponsored special chapels, shorts, if worn, must be bermuda style or basketball style; no short shorts, spandex, yoga pants, or leggings are allowed. Tank tops are not allowed.
Bell Schedule
Bell Schedule– Monday-Thursday (5 minute passing periods)
| | | |
| --- | --- | --- |
| Period | Start Time | End Time |
| 1 | 8:00AM | 8:45AM |
| 2 | 8:50AM | 9:35AM |
| 3 | 9:40AM | 10:25AM |
| 4 | 10:30AM | 11:15AM |
| 5 | 11:20AM | 12:05PM |
| Lunch | 12:10PM | 12:45PM |
| 6 | 12:50PM | 1:35PM |
| 7 | 1:40PM | 2:25PM |
| Study Hall | 2:30PM | 3:00PM |
Bell Schedule-Friday (5 minute passing periods)
| | | |
| --- | --- | --- |
| Period | Start Time | End Time |
| 1 | 8:00AM | 8:43AM |
| 2 | 8:48AM | 9:29AM |
| 3 | 9:34AM | 10:15AM |
| 4 | 10:20AM | 11:01AM |
| Chapel | 11:06AM | 12:01PM |
| Lunch | 12:06PM | 12:41PM |
| 5 | 12:46PM | 1:27PM |
| 6 | 1:32PM | 2:13PM |
| 7 | 2:18PM | 3:00PM |
Sick Policy
In an effort to keep the Christian Life family as healthy as possible, we ask that you use the following guidelines to determine if you child is ill. These guidelines will determine whether a child may attend school or if he/she needs to be kept home or picked up from school.
If your child has any of the following symptoms the night before or before leaving for school in the morning, we ask that you seriously consider keeping your child home. Also know that if your child is sent to school or comes down with any of the following symptoms, you will be called and asked to come and pick up your child from school.
Fever of 100o F or higher
Diarrhea once in a day with a fever
Diarrhea 2 times in a day, without a fever
Vomiting
Runny red eyes with discharge (pink eye)
Excessive coughing, difficulty breathing
Excessive runny nose with unclear or colored mucus
Unidentified rash
Listlessness or inability to participate normally in classroom activities
Before any child may return to school, the child must remain symptom-free for 24 hours.
Communicable Diseases
If your child has been diagnosed with a communicable disease, you are required to notify the school. Reportable communicable diseases include, but are not limited to:
Strep throat
Ringworm
Scabies
Chicken pox
Influenza
Pink eye
Head lice
Hand, foot, and mouth disease
Coronavirus
Your child cannot return to school until they are totally free of all symptoms. A doctor's note/release may be required at the principal's discretion.
Supply List
High School Electives
Drawing/Painting
Intermediate Art
Ceramics
Advanced Art
Intro to Design
Digital Media
Yearbook
Theatre
Choir
Spanish